Control and Intuitive Management
Access a full suite of tools for single-site to multi-site management, software updates, and network control. Rely on extensive remote monitoring capabilities to diagnose and resolve many issues without local human intervention, as well as automated reliability mechanisms that help maximize communications availability.
Flexibility and Adaptability for a Changing World
Start with exactly what you need and then increase capacity and capabilities as you grow. Connect up to 250,000 endpoints, and handle more than 50,000 call completions per minute across a global network. Add new applications as you need them.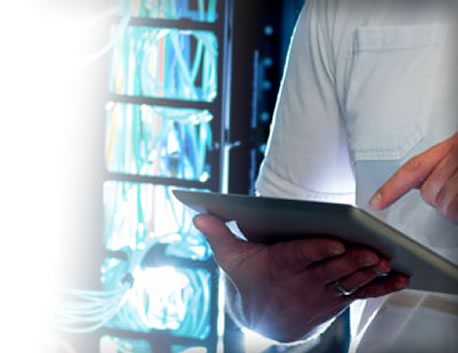 Integrated, Full-Stack Solutions Stop Problems Before They Start
Multi-faceted networks can create headaches at exactly the wrong times. To prevent challenges before they occur, depend on a complete, fully tested, full stack solution with common management, common hardware, and integrated services and applications across the network, all backed by Avaya's global services and support network.
Your Communications Have to Work
Deploying applications is one thing, keeping them working in a real-time communications environment across locations, service providers, and media is another. Real-time communications are delay intolerant and need to remain accessible and efficient even when demand skyrockets. Rely on stress-tested solutions configurable to five 9s across your network―a standard that more than 95% of the Fortune 500 trust their communications to every day.
Let the Collaboration Begin
Keep your team engaged, interactive and working together with audio, video, and web-based conferencing that drive the velocity of your business. Invoke applications with a simple click, making ad-hoc collaboration in real-time as simple as a swipe on your screen. Reallocate bandwidth on the fly to accommodate video demands, and get the video quality you need without disrupting any of your other communications.
Improve Customer Service
Streamline your customer contact center with powerful tools and agent clients that support voice, web chat, email, and video chat. See customers' interaction histories and social media postings, as well as a list of company experts available to help answer questions, all with the reporting and data capture necessary to make tomorrow's operations even more successful than today's.
• Cost Effective
Streamline communications with a single solution. Scale across locations large and small, reduce overhead costs for administration, dynamically optimize bandwidth, virtualize your core communications capabilities, and keep everyone connected regardless of location.
• Resilient
Configure your platform for up to 99.999% availability. Keep your business communications and customer contact solutions up and running, providing a dependable and consistent link between your enterprise and the outside world.
• Investment Protection
Continue moving forward across digital, IP, and SIP-based solutions with core and application upgrade paths that renew and extend your investment.
---
We manage your communications -
Leaving you free to run your business!